The Caravan Orchestra was founded in the summer of 2017, as an exchange project between Yiddish Summer Weimar (Germany) and the Department of Music of the University of Haifa (Israel), in cooperation with the University of Music FRANZ LISZT Weimar (Germany).
Every year, the Orchestra invites 28 – 30 young musicians from Israel and Germany to apply for a 2-3 week residency in Haifa and Weimar, with an intensive rehearsal period and concerts in both countries, as well as fun social activities, workshops and excursions.
Together with the artistic directors, participants explore both European Jewish and Arab music. It is the synthesis of those cultures that makes the sound of the Caravan Orchestra so unique. While having clear differences in the repertoire and style, Ashkenazic Jewish (Yiddish) and Arab music share some forms, tonal material and, most importantly, a performance philosophy with similar approach to improvisation, ornamentation, modality and many other concepts that we discover again each time!
For the first time in 2019, the Caravan Orchestra was joined by the Caravan Choir. The choir and the orchestra perform both together and separately. Like the orchestra, the choir explores musical improvisation, vocal styles and ornamentation in both Yiddish and Arab music.
The Caravan Orchestra and Choir 2022 will be led by Polina Shepherd, Meral Cihan, Wassim Odeh and Christian Dawid.
Polina Shepherd (Skovoroda) is a singer, choir leader, composer and international Yiddish culture makher based in the UK. Born in a Russian Jewish family in Novosibirsk, she was one of the visible young Jewish activists during her student years. While performing as a musician and forming her own band, she was also active in Jewish community work and in recording the remaining memories of Yiddish songs from her locals. With "Simcha", Russia′s first professional klezmer band after Perestroika, she toured all over the Former Soviet Union.
Being part of the international world of Ashkenazi culture, Polina strives to open this culture and to connect it to the rest of the global village. She has been associated with Yiddish Summer Weimar for many years and joined the Caravan Orchestra and Choir as a choir leader for the first time in 2021.
Meral Cihan is a singer and Tanbur player based in Berlin. Spending the first years of her life with her grandparents in Central Anatolia, she heard the singing of her grandfather from an early age, thereby learning about traditional Turkish music. In the mid-1970s, Meral moved with her parents and two siblings to Berlin, where her music teachers encouraged Meral's musical talent and development. She studied classical singing with Nuri Karademirli as well as Tanbur and theory of Turkish classical music at the Conservatory for Turkish Music in Berlin.
Today, Meral is teaching students from different countries in classical singing, Tanbur and theory. As a singer, she participated in many film and world music projects. Her latest project is the "Divan Ensemble", which is internationally engaged and promotes cultural exchanges between East and West.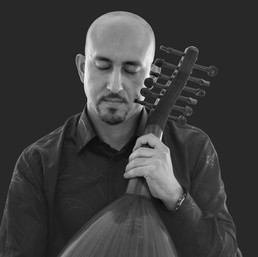 Wassim Odeh is a Palestinian Oud player from Nazareth. He studied music performance in his first and second degree at the Academy of Music and Dance in Jerusalem, where he also taught Oud performance for seven years. Furthermore, he taught at the Edward Said National Conservatory of Music and he holds a PhD degree from Bar Ilan University.
Wassim has performed in many important festivals worldwide. Currently, he is teaching Oud and Arabic music theories at the University of Haifa and at Maqamat School of Eastern Music. He also works as an oud soloist, as music director of the Arab Music Orchestra of Nazareth and with Palestinian singer Amal Murkus. Wassim released two albums of his musical compositions by "Watar Ensemble" and will soon release his third album.
Christian Dawid is a clarinetist, multi-instrumentalist, music maker and educator based in Berlin, Germany. Fluent in a dozen different musical languages, he feels most at home in Yiddish music and related genres. He counts as one of today's leading klezmer clarinetists and has performed, toured and/or recorded with artists like Brave Old World, Arkady Gendler, The Other Europeans, Daniel Kahn, Ben Caplan, Michael Winograd, Socalled, Yuriy Gurzhy, Dobranotsh and many more. He produced the Ukrainian brass band Konsonans Retro and performs with his own Trio Yas.
As a teacher, Christian is associated with Yiddish Summer Weimar, KlezKanada and Shtetl Berlin, and has taught at workshops and academies in St. Petersburg, New York, London, Cracow, Paris, Helsinki, Safed, Sao Paulo, Buenos Aires, Fürth and other places.
If you are an instrumentalist or a singer and you would like to apply to join the Caravan project, please click here for current information about the application process. If you want to know where you can hear and see the band, please click here. If you are a presenter and would like to book the orchestra and the choir, please contact project manager Andreas Schmitges at the Other Music Academy e.V.: andreas.schmitges@othermusicacademy.eu or by phone/WhatsApp: +49 177 6017686